Welcome to Chef Swarup's recipe page
Poached egg with tomatoes & carrots
Eggs are poached in a delicious tomatoes and carrots,very easy to prepare, healthy, comforting, flavorful,wonderful colors, definitely a must try recipe.It is usually served for breakfast, though I think it's perfect for brunch on lazy weekends. This dish is best served right away after cooking alongside some crusty Bread,Roti,Naan or Chapati.
Ingredients:
Makes about 4-6 servings
2 tbsp coconut oil or sunflower oil
2 medium onion, 2 medium carrots
diced 2 cloves garlic
minced 1 medium red bell pepper
diced tomatoes 2 tbsp (30g)
tomato paste 1 tsp ,chili powder 1 tsp
ground cumin 1 tsp
paprika chili flakes to taste
1 tsp sugar salt and freshly ground black pepper
6 eggs
fresh parsley/cilantro for garnish
Heat olive oil in a frying pan over medium heat. Add onion and cook for about 5 minutes until the onion begins to soften. Stir in garlic. Add red bell pepper and carrots and continue to cook for 5-7 minutes over medium heat until softened Stir in tomato paste and diced tomatoes and add all the spices and sugar. Season with salt and pepper and allow to simmer over medium heat for 10-15 minutes until it starts to reduce. Adjust the seasonings according to your tastes, add more chili flakes for a spicier sauce or sugar for a sweeter one.Crack the eggs over the tomato mixture, one in the middle and 5 around the edges of the pan. Cover the pan and simmer for 10-15 minutes, or until the eggs are cooked.Garnish with fresh parsley or cilantro and serve with crusty Bread, Roti, Naan or Chapati.
Kerala green mutton curry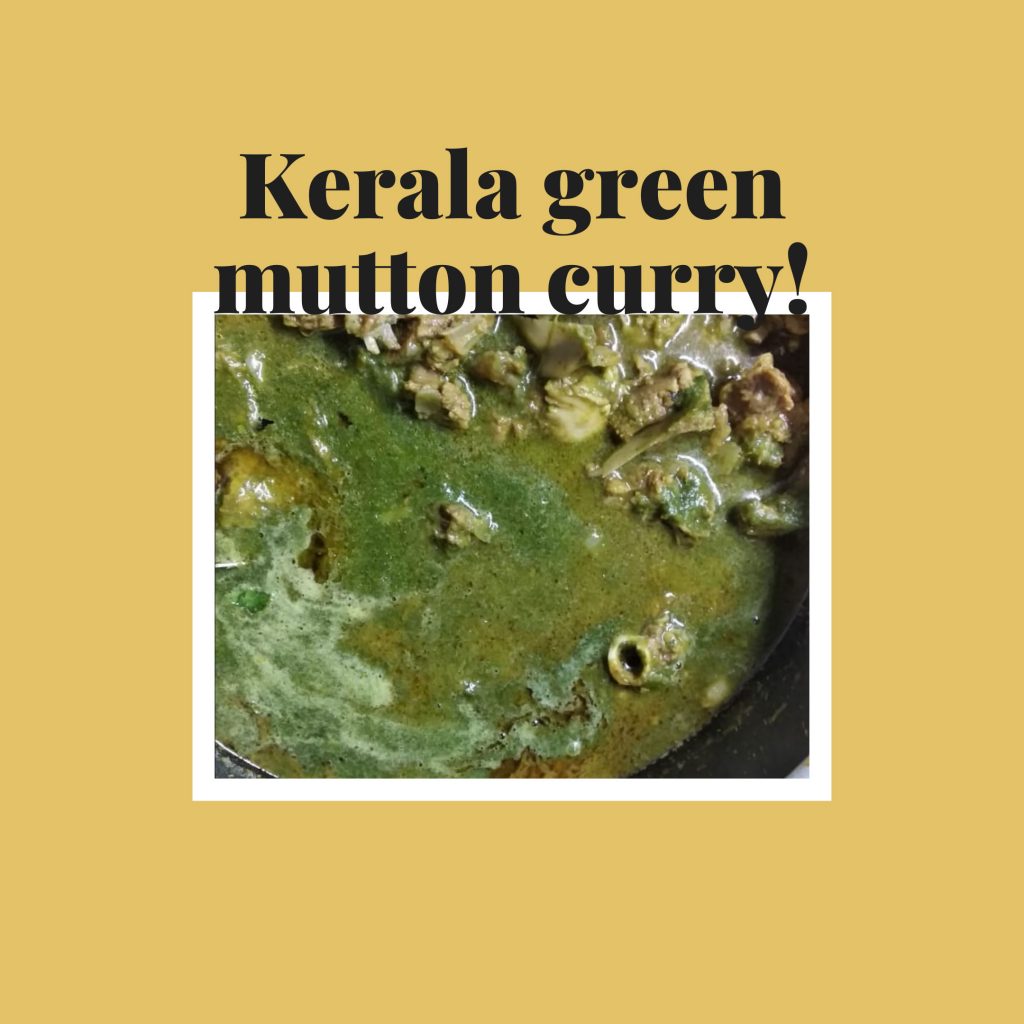 Ingredients and cooking method:
Kerala green mutton curry is a traditional mutton delicacy. Famous for its rich & palatable food varieties. Mutton pieces that are soft, juicy & succulent cooked in green gravy.
1.Ginger – 1 piece.
2.Green chilly – 6 numbers.
3.Jeera – 1/2 tea spoon.
4.Coriander seeds – 1 tea spoon.
5.Pepper corn – 1 tea spoon.
6.Whole garma masala (each) – 4 numbers.
7.Tomato – 1 number.
8.Mint leaves – 2 bunch.
9.Coriander leaves – 2 bunch.
10.Mutton – 500 grams.
11.Garlic – 4 cloves.
12.Salt to taste.
13.Onions (Chopped) – 1 cup.
14.Turmeric powder – 1/4 tea spoon.
15.Bay leaves – 2 numbers.
16.Oil – as required.
Heat a pan add bay leaves,whole garam masala,pepper corn, coriander seeds,jeera,dry roast all ingredients and let it cool down and make a fine powder.Heat oil in a pan add green chilly, ginger, garlic, tomato, mint leaves, coriander leave.Cook this till the greens are cooked,let it cool down,put into the blender.and make a paste.In the same pan add oil,chopped onions,salt,turmeric,cook this till onions are slightly golden color.Add mutton pieces,garam masala, water, put the lid on and let it cook on a medium flame till the mutton is tender.Then add paste of green vegetable mix this and cook it for few minutes.Garnish with red bell pepper or capsicum.
Serve this with rice,roti,chapathy or naan.
Rogini chicken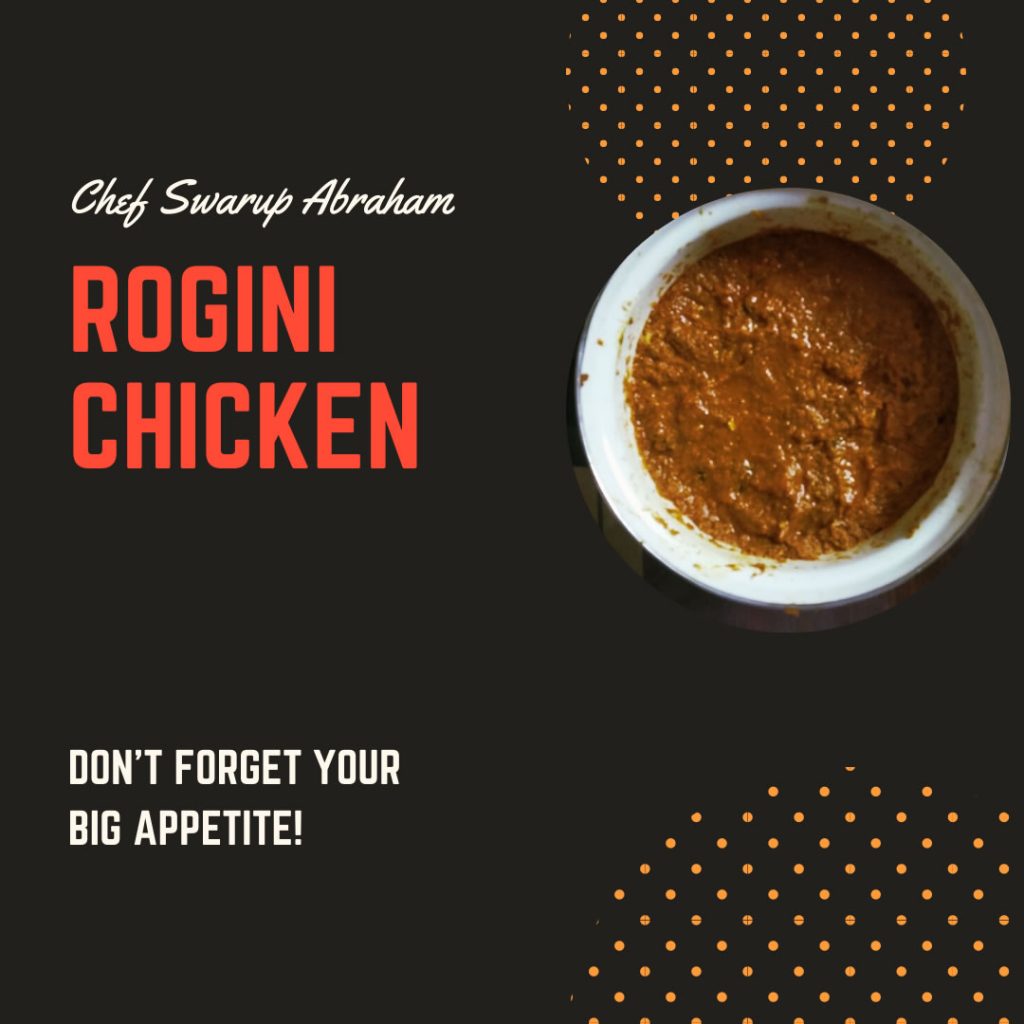 Ingredients:
For Spice Mix for grinding :
3 tbsp Kashmiri Red Chilli Powder
Cashewnuts 30 gm
1 tbsp Fennel Seeds
15 gm Poppy seeds
1 tsp Garam Masala
2 onions sliced
8 flakes Garlic
2 Bay leaf
1 inch Cinnamon Stick
10 gm Ginger
Oil
5 tbsp Ghee
Spice Mix
1 cup Curd, salt to taste
500 Gms Chicken
Preparation:
Joint chicken and brown in fat.Do not overfry.Remove
Add ground spices and fry over slow fire till the fat floats on top.
Add chicken.
Stir well and cook gently sprinkling little water.
When three fourths done beat curds into a smooth paste and pour over the chicken.
Cook again till chicken is tender.Do not stir.
Garnish with coriander leaves if desired.Serve hot.
Tomato ketchup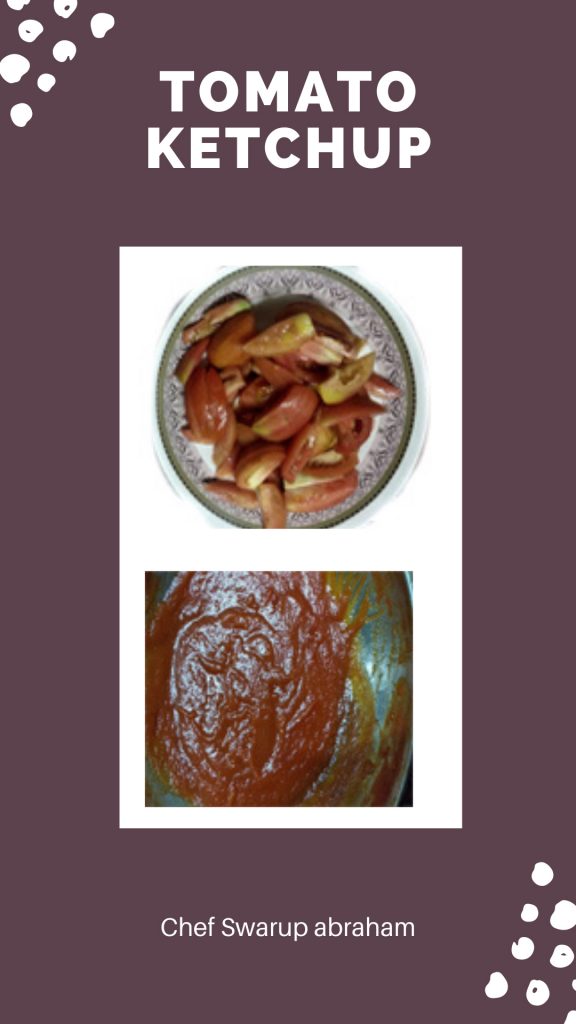 Tomato ketchup is the best with french fries,noodles and burgers.Chef swarup is here to show you how to make tomato ketchup at home in most easy way.
Ingredients :
1.5 kg tomatoes
1/2 cup sugar
1 1/2 cup vinegar
1/2 tsp chillli powder
Salt to taste
500 ml water
Preperation :
Roughly cut the tomatoes then put it in the pressure cooker with little bit of water and cook it for 3-4 whistles.
Allow the pressure to subside and later open the lid of pressure cooker.
Once done, blend it into very fine puree and run it through the mesh.
Cook the puree on moderate heat,add sugar, white vinegar, chilli powder,salt.
Let it continue cooking for 15-20 minutes until it becomes thick.
Put few drops on clean plate, tilt it and if its not runny then the ketchup is ready.
Put the ketchup into a squeeze bottle.
And homemade tomato ketchup is ready.